Tips For Selling In The Winter
There's a Grinch roaming around in Baltimore. He's sneaking through a remodeled row house from the 1920s, swiping holiday stockings and the Christmas tree, searching the refrigerator, lounging in the bed, trying out the rowing machine in the basement, and even holding a yoga pose. He's hoping to steal a buyer's heart when they fall in love with the home.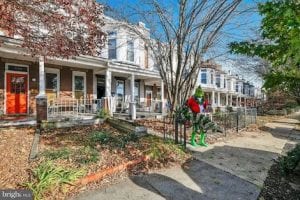 Real estate pro Christina Dudley of Berkshire Hathaway HomeServices PenFed Realty used the Dr. Seuss character throughout online photos showcasing the property for sale. She hopes that buyers who spot the Grinch as they flip through the photos online will want to do a double-take.
"It definitely helps with exposure," Dudley told realtor.com®. "Obviously nobody's going to buy a house based on funny characters. It definitely gets people talking and gets people sharing the home."
The idea to dress in costume and be featured in listing photos is nothing new. Several real estate professionals have donned cheeky getups since news broke about a real estate pro that dressed in an inflatable T-Rex costume saw his listing photos go viral. Dudley and her co-listing agent, Michael Frank, have also used unicorn and Spider-Man costumes in recent months to list properties in their area for sale.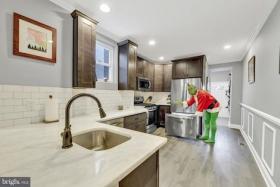 If your not into costume characters to sell your home this winter here are some helpful suggestions by Lisa Kanov and our friends at First Alliance Title.
1. Clear Snow & Ice Away From Walkways & Stairs: Snow is inevitable in Colorado, so keep waling areas salted and shoveled.  Buyers (and Agents) want to see that you home is maintained and kept in good condition.
2. Make it Cozy: Part of making a home inviting to an interested buyer involves making it feel warm – not shivering as they walk around the house.  Set the thermostat higher if you know people are coming to look at the home and if you have a fireplace set up a fire.
3. Clean Your Windows: Unkempt and dirty windows can turn off buyers before they even enter a house and the sunshine in the winter can reveal grime.  Clean your windows and improve a potential buyer's first impression.
4. Emphasize Conveniences: Emphasize it so they know that your home is convenient to deal with the winter season.
5. Stage it Outside: Staging is not only for the inside but for the outside as well.  Tasteful winter wreaths and garlands can make your home seem welcoming.  Turn n the outside lights and clean your outdoor patio furniture as well.
6. Decorate Your Home: Stage your home appropriately for the season.  For example, place a few fleece blankets on the couch, place your entertaining dining set on the table, put a few seasonal decorations up or illuminate your home with warm-colored lights so your buyer feels welcomed and warmed.
7.  Shoes Off, Please: Leave a sign to tell buyers to take their shoes off so that no mud or snow is tracked into the house.  Invest in booties if needed.  This shows that you take care of your house well.
***Special thanks to Christina Dudley, Berkshire Hathaway HomeServices PenFed Realty and Realtor Magazine for the Grinch Article.