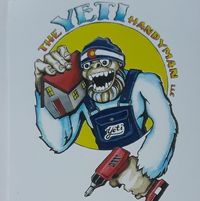 Welcome to The Yeti Handyman, where craftsmanship meets convenience! Our dedicated team of skilled professionals takes pride in offering a comprehensive range of home repair and improvement services tailored to meet your unique needs. Whether it's a fresh coat of paint to transform your interiors, a flawless drywall finish, a stunning remodel, or meticulous yard work, we are your one-stop solution for all things home improvement. At Yeti Handyman, we bring expertise to every project, ensuring top-notch results that enhance the beauty and functionality of your living space. Trust us to turn your vision into reality, delivering quality craftsmanship with a commitment to excellence.
🖌️ Interior & Exterior Painting: Give your walls a fresh new look or revive your home's curb appeal with our professional painting services. Our skilled team ensures meticulous attention to detail for a flawless finish.
🌿 Yard Work & Landscaping: From lawn maintenance to full-scale landscaping projects, we've got your outdoor space covered. Let us create a picturesque and inviting environment that complements your home's beauty.
🛠️ Drywall Repair & Installation: Say goodbye to unsightly wall damage! Our experts specialize in seamless drywall repairs and installations, leaving your walls looking smooth and impeccable.
📞✉️ Contact Information:
🌟 Basic Info:
Rating: ⭐⭐⭐⭐⭐ (5.0) based on 17 Reviews
🏡 Why Choose The Yeti Handyman? ✅ Personalized Service: Tailored solutions to meet your unique needs. ✅ Quality Craftsmanship: Our skilled professionals ensure top-notch results. ✅ Hassle-Free Experience: We handle everything from start to finish. ✅ Competitive Pricing: Affordable rates without compromising on quality.
Ready to give your home the care it deserves? Contact us today for a consultation! 📞✉️ Contact Troy today.  Tell them David Olson with NexStep Real Estate Group sent you!
#HomeImprovement #PaintingServices #YardWork #DrywallRepair #HomeMaintenance #QualityCraftsmanship #YourHomeDeservesTheBest 🏡🔨