Ryan Sondrup of NeXstep Real Estate Group Wins 2023 Five Star Award
Five Star Real Estate Agent Award – Exclusive recognition of area real estate agents.
Denver, CO – Ryan Sondrup wins the 2023 Five Star Real Estate Agent Award! Five Star Real Estate Agents represent those who are outstanding in their field.  Winning Professionals are selected as a result of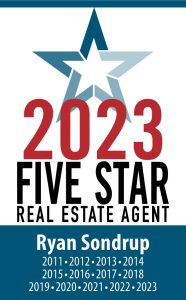 a rigorous and objective research process. For any market, each year's field of winners represents no more than 7% of agents within the market. For more information please go to www.fivestarprofessional.com
"Thanks again to my clients for your continued support and recognition for the 13th straight year as a Five Star Real Estate Agent. Building a business based on client referrals, I'm truly humbled by your support. You have been the driving force behind my company's ongoing success, from the mountain resorts to the Denver metro market. More to come in 2023!" Said Ryan Sondrup of NeXstep Real Estate Group.
The 2023 Five Star Real Estate Agent award winners have been carefully selected for their commitment to professional excellence and overall client satisfaction. The award is based on rigorous research with significant focus on customer feedback and providing quality services."Five Star Professional's research is extensive, with more than 10 million consumers, peers and other stakeholders contacted each year. We are relentless in our efforts to identify those professionals with the utmost standard of excellence," Jonathan Wesser, Research Director, Five Star Professional.
Raised in Colorado, Ryan Sondrup boasts a passion for all aspects of nature and Colorado's exquisite great outdoors. He translated that life-long reverence to his profession of bringing the outdoors to others through NeXstep Real Estate Group. Ryan handled special events at the University of Wisconsin Athletic Department including game day production and national touring concert series before returning to Colorado's Impact Productions, a special events management firm that promotes national and international programs from its Denver headquarters. A graduate of the University of Wisconsin with a dual degree in Marketing and management/human resources, obtained his education through an athletic/academic scholarship. Ryan graduated from the University of Denver Daniels School of Business in with a Master of Science in Real Estate.
Five Star Professional conducts in-depth, market-specific research in more than 45 markets across the United States and Canada to identify premium service professionals.  Five Star Professional contacts thousands of recent homebuyers to identify award candidates. Phone, mail and online respondents rate their real estate agent on 10 satisfaction criteria. Candidates with a qualifying client satisfaction rating move on to be evaluated on objective criteria such as experience, production levels and disciplinary and complaint history. Real estate agents do not pay a fee to be considered or awarded. For more information, visit www.fivestarprofessional.com.
CONTACT INFO
Ryan Sondrup
www.neXsteprealestate.com
ryan@nexsteprealestate.com
303-398-7012