Elephants Love Cowboys Too!
So excited for our client and Author Carole Sondrup as she launches her first children's book "Elephants Love Cowboys Too!"  Love is love, in any language. But what happens when no language exists to make communicating that love possible? A breakthrough must happen, and when it does, the joy of understanding and being understood is suddenly present.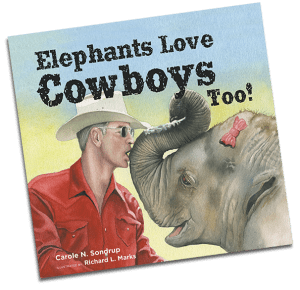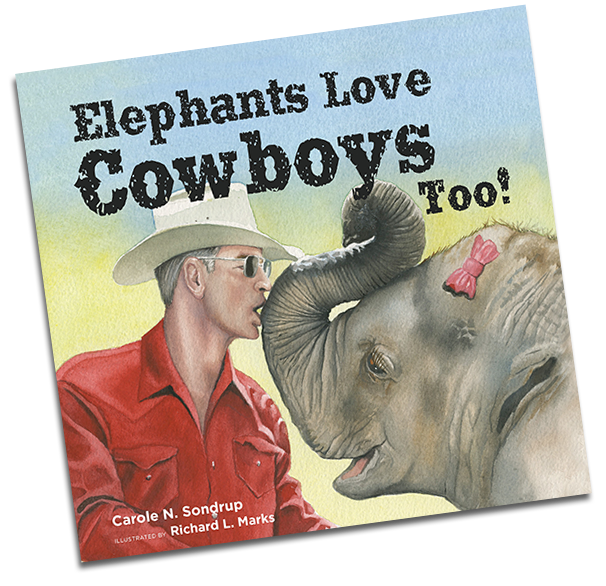 This is the breakthrough that happened between "Cowboy Bob" and Amy the Elephant, and was both experienced and chronicled by his daughter as her own children grew up.
Having seen these communication breakthrough happen with her own eyes, the author is convinced this message is so important, it needed to be written as a book to be enjoyed by children and their elders.
Citing the unusual level of mutual understanding experienced by Mr. Bob Norris and the African elephant he adopted and raised on his own ranch, Sondrup believes this is the kind of breakthrough that can happen in other cases too – such as for those with autism. The special language that made it possible for Amy to communicate to humans was adopted by zoos throughout the U.S. and the world.
Not only did the author witness and participate in this unusual inter-species communication between her dad "Cowboy Bob" and "Amy the Elephant"; she also noticed the effect this human-animal communication was having on her own niece, who suffers from autism. The author and her family members believe the same kind of breakthrough is possible in the autism community. Many experts in the field of autism now agree. For this reason, the proceeds of this book are dedicated to one special Autism Center.
The book, designed by experts in youth-publishing, have created what appears to be a traditional childrens' picture book. With the charming lilt of story-telling penned by the author, and the addition of delightful, uplifting watercolors by a professional artist Richard L. Marks (http://www.marksmenstudios.com), the book is destined to be a favorite gift for children, parents, and grandparents eager to find the next "read" to be shared.
What makes this book unique, however, is that it is not fictional. This non-fiction work tells a true story based on the experiences of three generations of the Norris family, now brought to life in a form ideal for children of all kinds and all ages.
The Autism Treatment Center, founded by the author's brother Bobby Norris of Ft. Worth, Texas, whose daughter is autistic, has pre-vetted the book, with its own staff members. Other experts in the autism field have also praised the book. And the director of the Fresno Zoo, where Amy spent her final years, admires the book and plans to have it available to zoo patrons.
All author royalties and net proceeds will be donated to ATC. Find out more by visiting the ATC website http://atcoftexas.org/
And enjoy reading about their annual event Round Up for Autism
http://roundupforautism.org/
To purchase your own copy
https://www.barnesandnoble.com/w/elephants-love-cowboys-too-carole-n-sondrup/1128946050?ean=9780999209103