5280 Magazine Recognizes Ryan Sondrup in Denver's Top Real Estate Producers of 2021
Denver's Top Real Estate Producers 2021
Our list of the best 1,024 home sellers in the metro area. CLICK HERE…

By Staff 5280 March 2021
There's no denying that the mile-high residential real estate market has been one of the hottest in the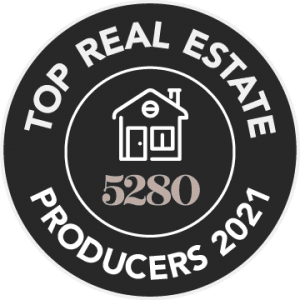 nation for the past decade. It even remained on fire through much of the pandemic. Depending on your situation, that can be a wildly lucrative or bank-account-emptying prospect. Either way, the market's nuances as well as the legal and financial processes involved are almost always confusing, if not downright mystifying. That's where our directory of real estate agents—all of whom produced among the highest sales volumes in Denver in 2019 (the most current data available at press time)—comes in handy. Whether you're looking to buy or sell in Denver's high-stakes market, harnessing the expertise of one of these professionals may help deliver you quickly and (hopefully) painlessly to the ultimate goal: closing day.  Ryan Sondrup with NeXstep Real Estate Group recognized with a Black Diamond Award by 5280 Magazine.
Search our list of Denver's top-selling real estate agents. 
5280 March 2021 Award Winners
Individual agents
Black Diamond: $10 million or more
Individual agents
Double Black Diamond: $20 million or more
FAQ: Your questions about the list, answered.
How does the magazine create this list?
In June 2020, 5280 posted its Top Real Estate Producers survey online. We sent the link to the questionnaire to dozens of real estate brokerages in the seven metro-area counties; it was also shared widely via social media. Any brokerage with agents who sell homes in the Denver metro area could submit nominations. The survey asked brokerage administrators to provide the names of both individual agents and teams of agents who, based on their sales volumes for 2019, qualified for our list. Nominees in hand, our research department reached out to each real estate agent to confirm the sales numbers and to gather and/or verify their basic
contact information.
What qualifies someone to be a 5280 Top Real Estate Producer?
We have four categories: individual agents, teams of two agents, teams of three to five agents, and teams of six or more agents. Within each category, we have two tiers: black diamond and double black diamond, which signify different levels of (impressive!) sales volumes. To be on the list, an agent or team of agents must have sold real estate within the Denver metro area and attained a certain amount of sales in 2019. Agents must also have an active license with the state's Department of Regulatory Agencies; that license must be in good standing, without any disciplinary actions within the past five years.
I'm looking at the list and there seem to be teams in, say, the six or more category that only have five agents. What's that about?
As in any business setting, people come and go. Because we want this list to be a useful reference for you, we have only included current members of teams. So, while there may have been seven people responsible for the team's 2019 sales volume—which would put that group in the six-plus category—only five may still be working with that squad today.
I've heard that being on the list requires an agent or a brokerage to advertise with 5280—is this true?
Nope. Inclusion in the Top Real Estate Producers list is not dependent upon the decision to advertise with the magazine. Sometimes agents and brokerages decide to advertise; however, if, when, and/or how much anyone advertises is not taken into consideration when compiling the list