NeXstep's Ryan Sondrup Garners Prestigious Sales Production Award
Ryan Sondurp of NeXstep Real Estate Group Garners Prestigious Sales Production Award for 2022 from South Metro Denver REALTOR® Association
Realtor Group Holds Eleventh Annual Diamond Circle Awards Celebration, March 31st at the Hyatt Regency DTC!
Centennial, Colo. – March, 31, 2023 – Ryan W Sondrup, a leading REALTOR® with NeXstep Real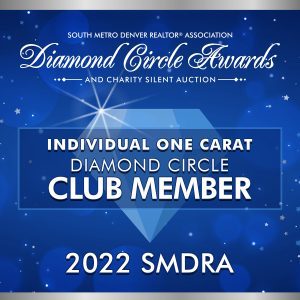 Estate Group, has been recognized by the South Metro Denver REALTOR® Association (SMDRA) with the 2022 Diamond Circle Club Award for Individual Residential Sales – One Carat. SMDRA hosted its tenth annual Diamond Circle Awards at the Hyatt Regency DTC on Friday, March 31, 2023.
In order to become a One Carat – Individual Member of the Diamond Circle Club, a REALTOR® must have produced between $3-$6,999,999 million in volume or completed between 20-29 transactions.
"We are pleased to present Ryan with the Diamond Circle Club One Carat Membership for 2022," said Janet Marlow, 2023 President of SMDRA. " he has demonstrated a sincere dedication to the real estate industry during unprecedented times through dedication, perseverance, and selfless customer service, achieving success regardless of market conditions. We are proud to have Mr. Sondrup as a member of our association."
SMDRA is a non-profit trade association that provides real estate professionals with the resources they need to help them grow and prosper in the highly competitive real estate business.  A real estate agent is a REALTOR® when he or she is a member of the local, state, and National Association of Realtors, NAR, The Voice for Real Estate and the world's largest professional association. The term "REALTOR®" is a registered collective membership mark that identifies a real estate professional who is a member of the National Association of REALTORS®, subscribes to its strict Code of Ethics, and holds themselves to a higher standard of business from other licensed agents in the real estate industry. Only real estate licensees who are members of the REALTOR® Association are properly called REALTORS®.
Master of Ceremonies for the Diamond Circle Awards was Scott Peterson, General Council with Colorado Association of REALTORS®. This event also featured a mobile platform Silent Auction with items donated by SMDRA members and local businesses, with proceeds going to benefit SMDRA REALTORS® Care Foundation.
For more information on real estate services from Ryan Sondrup, check out www.SondrupRealty.com. For more information on SMDRA, visit www.smdra.com.
# # #